Well, my last visit to the Dr. included additional x-rays and a consultation with another orthopedic Dr. The consensus was that I do not need surgery as my projected recovery would not be improved by surgery. Or, I will heal just as well without it. I've looked at the x-rays and the fluoroscope as the doctor described what she was looking for, while I'm not a doctor, it did seem pretty clear that all was as well as it could be. So, I'm now the proud owner of a purple cast. (Yes Husky fans, that is purple and gold!)
The girls have been handed metallic markers and have spent the week decorating my cast. They've been so enthusiastic that I think the only clear space is on the back where my leg is resting on pillows. I'm not sure how much longer this space will remain clear...
I turned the imps loose with the camera again, it is too awkward to take them myself, and after I'm up for a while, my foot gets pretty achy. I'm glad I decided to postpone going back to work. I had intended to return today, but I am still having a difficult time getting around and if I'm struggling at home, I can't imagine going to work. The trip to my bathroom at work is about 7 times the distance that it is at home. Of course, the restroom at work is equipped with rails, etc., which would make things a bit easier. It is frustrating. The only part of my that is broken is my leg, the rest of me is going mad sitting here with so many limitations. Work is appealing, just so I can get out and interact with people, you know? My husband seems to think I should be back already, but I figure if I'm uncomfortable, I shouldn't do it.
I pulled a stunt worthy of Jerry Lewis yesterday. I managed to get my crutches tangled in my new Duvet and tripped. In the process I banged up the middle toe on my good foot and fell slightly on the broken leg. The slight fall on the bad side ached, but did not really hurt. The thing I did with my good leg/foot, well, let's just say I don't know exactly
what
I did to my toe, but it hurts & has a big black bruise at the end on one side. I feel like maybe I broke it, but maybe it is just a sprain. It is ridiculous, I mean, seriously. I'm sure Mr. Lewis could have done it justice in a film. I just fell back across the bed and gasped out some very unlady-like words. No one to hear me but the cats. I spent the rest of the day crossstitching and icing my toe.
It may have been a blessing, of a sort. I finished the quilt square now, YIPPEE! and I can go back to other things, like knitting. I've really accomplished quite a few things from my nearly prone position. The colors aren't great, but the girls' camera doesn't have the ultra nice flash & the lighting wasn't great at the time they took it. The color of the vase is a deep steely blue, the leaves are a medium antique-ish green, and the flowers are a very dark plum. They balance very nicely, I think, and it is a nice square. Best of all, I finished well in advance of the due date, nothing to do but turn it in.
I think I'm ready to get back to the knitting, but I might read a bit more first. So far this week I've finished two books;
The Old Wine Shades
(my first Martha Grimes) and
Crazy Aunt Purl's Drunk, Divorced & Covered in Cat Hair
. Both very enjoyable, though the Grimes book involved quantum mechanics, and there were bits that required a second read to make sure I understood it all. I was not prepared for the ending and I wonder if it is common in her books or just fitting for this one in particular. (Don't worry, I won't give it away.) I also worked in a short story by
Jim Butcher
, an outstanding author (fantasy/urban fantasy).
One last photo, I just can't resisit. My youngest (the 5 y.o.) is quite something. I should probably be concerned, but I'll just file it all away for later. She was posing for her sister with the camera, she is a total ham. And a flirt.
What a cutie, right? Not long after the picture was taken, she was helping with something and I said "thank you, sweetie." She said, "I'm not sweet, I'm evil." I said "No, you're worse. You're cute." That made her laugh and she started making up a song about mommy saying she is cute.
I tell you , that kid is twisted.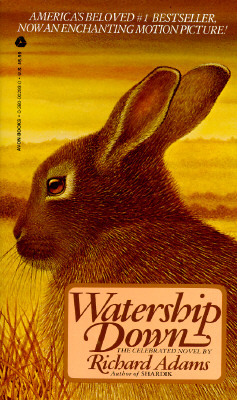 You're Watership Down!

by Richard Adams

Though many think of you as a bit young, even childish, you're
actually incredibly deep and complex. You show people the need to rethink their
assumptions, and confront them on everything from how they think to where they
build their houses. You might be one of the greatest people of all time. You'd
be recognized as such if you weren't always talking about talking rabbits.


Take the Book Quiz
at the Blue Pyramid.